Lash lifts are a popular treatment that can help your clients achieve long, luscious lashes. Unlike extensions, which require regular maintenance, lash lifts last for several weeks with no upkeep required. Plus, they are much less expensive than extensions, making them a budget-friendly option for your clients. Moreover, lash lifts are relatively quick and easy to administer, so you can easily add them to your existing service menu. With so many benefits, it's no wonder that lash lifts are one of the fastest-growing trends in the beauty industry. 
WHAT IS A LASH LIFT & TINT?
A Lash Lift is a semi-permanent treatment that curls and lifts your natural lashes. The results are similar to what you would achieve with an eyelash curler, but without the daily hassle. The treatment is safe and gentle and can last anywhere from 6 to 8 weeks. 
A Lash Tint is a semi-permanent hair dye that darkens your lashes. This is an excellent option for people who want to save time on their daily beauty routine or those who have light-colored lashes and want a more dramatic look. The tint will usually last 4 to 6 weeks before it starts to fade.
These two treatments are incredibly popular and are typically done together at the same appointment. 
WHAT TYPES OF CLIENTS CAN BENEFIT FROM A LASH LIFT?
Clients often choose lash lifts because of the low-maintenance and long-lasting results. There is no need to wear mascara or other products, and your lashes will look longer, fuller, and healthier. The treatment is also a great alternative for those with allergies to traditional lash extension adhesives. Lash lifts are a safe and effective way to achieve the appearance of longer, fuller lashes for most women; however, they prove difficult with short lashes.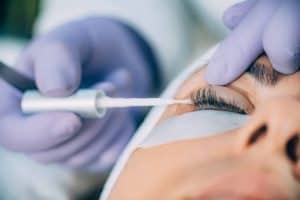 HOW CAN LASH LIFTS BENEFIT YOUR BUSINESS?
Lash lifts have excellent income potential. Depending on where you are located and what services are offered, a lash lift can make $50-$200 per appointment! Even better yet? The cost to perform this service is low. 
Lash lifts are also a great way to maximize your schedule! You can offer this service between appointments like lash extension fills and full sets, as they are relatively quick. 
FAQ
HOW LONG WILL YOUR CLIENT ENJOY THEIR LASH LIFTS?
Depending on the individual's natural lash cycle, as well as the products used, your client can expect their lash lift to last between 6 and 8 weeks. However, to maintain optimal results, it is recommended that they come in for a touch-up every 4 weeks. At each touch-up appointment, the service is performed exactly the same each time. By following this maintenance schedule, your clients can enjoy beautiful, lifted lashes for an extended period. 
HOW YOUR CLIENTS CAN TAKE CARE OF THEIR LASH LIFTS AFTER THE PROCEDURE

After they've had a lash lift, they must follow the steps to ensure they stay looking their best. Here are a few simple tips:
Avoid getting your lashes wet for at least  24 hours after the treatment. This will give the disulphide bonds in the hairs time to set.

Be careful when using oil-based products around your eyes, as they can cause your lashes to lose their curl.

Gently brush your lashes with a clean mascara wand to keep them separated.

Avoid rubbing or pulling on your lashes, as this can cause them to fall out.
These simple tips can help your clients ensure their lash lift lasts longer and keep their lashes looking their best.
CAN YOU PERFORM LASH LIFTS ON ANYONE?
Lash lifts are suitable for most people, but there are a few exceptions. If your client has very short lashes or extremely sensitive eyes, they may not be a good candidate for the treatment. In addition, if they have an active eye infection or allergies, they will need to wait until those issues have been resolved before getting a lash lift. 
International Beauty Institute offers an online lash lift and tint course!