Throughout history, beauty standards and trends have shifted significantly. These changes saw varying degrees of drama and minimalism, from the iconic pin-up style in the 40s and 50s to the infamous 80s big hair. Those who lived through the 90s can tell you all about the 90s brow; thin, sharp and often over-plucked. 

Today, people are open to embracing a wide variety of different brow looks (even the 90s brow is rumoured to be making a comeback). Brow styling has become very popular, and many individuals enjoy using cosmetic applications and services to achieve their ideal brows. With different brow styles ranging from the iconic "Instagram brows", ombre brows, fluffy brows, soap brows, the "brow slit," natural brows, bleached brows, microblading, tinting and more, there is a look to suit everyone.
Brow lamination has increased in popularity over the past few years. It possesses the ability to create the desired natural, fluffy, feathered or dramatic effect, and brows will be easier to shape and style. Pairing the service with a tint will give clients a more defined result and the ability to achieve their brow goals. 
Full, feathery, and effortlessly styled brows? Yes, please!
WHAT DOES BROW LAMINATION DO?

The solutions used within the brow lamination service use the same process as a lash lift or a perm. The products used will restructure the bond of the hair shafts, allowing them to be reshaped and redirected into a new placement. 

Fear not; although the solutions are similar to those used during perms and lash lifts, brow lamination will not give you curly eyebrows. Post-treatment, the brows will be groomed into the desired aesthetically pleasing direction and shape, appearing lifted and full.

WHO IS BROW LAMINATION BEST SUITED FOR?

The service is perfect for clients with unruly brows or hairs that grow in multiple directions, as the solutions will help to tame the hairs and keep them looking uniform. Clients with slightly sparse or thin brows can expect to achieve more fullness and volume with hairs being shaped more upright, filling in gaps and feathering out to cover more space. 

Pairing a brow lamination with a brow tint will add an extra pop of drama and definition, resulting in perfectly sculpted and shaped eyebrows. Threading or tweezing the sparse hairs around the area will give a clean and fresh style, so a quick brow cleanup can be done to give a polished look upon completion. For a total brow-reshaping experience, waxing can be done 24-48 hours before the brow lamination treatment. Doing this beforehand will help to prevent the chance of sensitivity or reaction, but in some cases, waxing can be done in the same treatment.
HOW LONG DOES BROW LAMINATION LAST?


Unlike microblading, brow lamination results are temporary, making it perfect for those who don't want to commit to a long-term brow style. Upon completing the brow lamination service, clients can expect their brow lift to last anywhere from 4-8 weeks. 

It may take 24-48 hours for the brow lamination to be fully set and the results to be achieved. Adhering to aftercare recommendations will ensure that the treatment results will last as long as possible. Keeping them dry within the first hours will be essential in developing the bond and ensuring that the brow lift process is successful.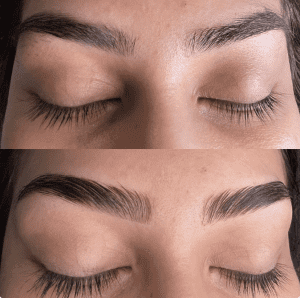 Brow lamination by graduates in order as they appear: @estheticsxjulia, @maddythe.esti, @monarchsoulbeauty

HOW MUCH DOES BROW LAMINATION COST?

Certified brow techs and aestheticians can charge between $50-$100 for a brow lamination service. Additional services combined with brow lamination include brow tinting, lash lifts, lash tints and threading. These services are ideal for professionals such as brow technicians, lash artists, and aestheticians.
WHERE CAN I DO A BROW LAMINATION CERTIFICATION COURSE?

Let's get those brows looking fluffy and styled!

International Beauty Institute offers an online Brow Lamination Course!