From mascara to falsies to lash extensions, intensifying the eyes is a popular choice in aesthetic applications. Even those who don't wear a lot of makeup will often swipe some mascara over their lashes for that extra pop. For individuals that have blonde lashes, want a low-maintenance routine, or have natural lashes that can't ever seem to hold a curl, a lash lift and tint service will be a popular and promising treatment to offer your clientele.


WHAT IS A LASH LIFT AND TINT?
A lash lift is achieved by applying mild lifting lotions onto the eyelashes and shaping them up and over a silicone pad. This process allows the lashes to take on a new shape and creates a lifted and more dramatic curl. A black tint is then applied to the lashes to give them a deeper, more sultry effect. Say goodbye to your eyelash curler and hello to effortlessly curled and defined lashes!



Lash lift and tint by graduate @skinwithhaylee

Here's what you can achieve with a lash lift and tint:
1. DEEPEN AND DEFINE BLONDE AND FAIR LASHES
People with blonde and fair eyelashes will sometimes feel like they don't appear to have eyelashes. This concern is due to the lack of pigmentation within their natural hair fibres. These clients often depend on mascaras to enhance their eyes and achieve a rich dark colour. A lash tint will give them a sultry black pop of colour that will amplify their eyes. The lift will elevate their lashes and enhance the definition of the once-light and hard-to-see natural lashes. This service packs a big punch for these clients, as their eyes will finally appear more amplified and dramatic – even with no mascara.


Lash lift and tint by graduate @lashesandwaxes_by_gabby

2. USE A LIFT AND TINT BEFORE LASH EXTENSION APPLICATIONS
Lash lift and tint services are perfect for lash extension technicians to bring into their business. Not only will this open the door to new clientele who are hesitant to try eyelash extensions, but the service will be a bonus for existing clientele. The curl that a lash lift creates will support and cradle each individual lash extension upon application, thus improving retention and making the application easier. Furthermore, if lash extension clients have blonde or fair lashes, the deep tint will allow the tech to see the natural lashes better. The freshly tinted natural lashes will also blend in better with the colour of the black extensions. Pairing the lash lift and tint service with an eyelash extension application will add more drama and dimension to the client's eyes than ever before.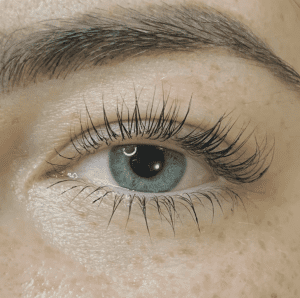 Lash lift and tint by graduate @lifted.by.sydney


3. ACHIEVE A LOW MAINTENANCE LASH ROUTINE
A common incentive for getting a lash lift and tint done is convenience. This service is excellent for those who lack spare time or don't want to put effort into an extensive makeup routine. Getting out of bed with already curled and enhanced lashes means no-makeup days have never been easier. The lash lift and tint treatment provides a mascara look to the lashes, deepens the lash line and opens up the eyes. It's an excellent option for clients who don't want eyelash extensions applied but want to add a bit of drama.

4. ADD DRAMA AND DEFINITION TO STRAIGHT OR DOWNWARD LASHES
Clients who experience the struggle of straight or downwards-facing lashes tend to have difficulty achieving lifted and curled eyelashes. Eyelash curlers and even the most curl-promising mascaras often fall short in keeping lashes upright for an extended period of time. A lash lift and tint is an excellent service to help lift and curl naturally straight lashes to give them the desired drama and openness. The transformational results will have them smiling from ear to ear as they see their new look for the first time. 
HOW MUCH DOES A LASH LIFT AND TINT COST?
Lash lifts and tints are an easy-to-perform service that packs a big punch for those who want to give their natural lashes a little extra oomph. Taking an average of 45-60 minutes, a lash lift and tint can cost anywhere between $65-$110. This treatment is a perfect add-on for experienced eyelash extension technicians or aestheticians who want to begin offering lash services to their clientele.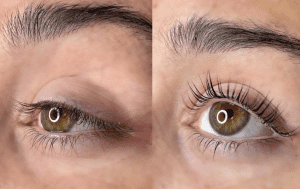 Lash lift and tint by graduate @ks_lash_lounge_
HOW LONG DOES A LASH LIFT AND TINT LAST?
The results of a Lash Lift and Tint can last up to 6 weeks; however, results will vary from person to person depending on their hair growth cycle and lifestyle habits. For example, if a client is experiencing a lot of lash shedding or does not follow their Lash Lift and Tint Aftercare advice, their results may not last quite as long.
The lash lift and tint service is simple to perform, low risk and pain-free. The upkeep is low-maintenance, and the treatment is an excellent way to enhance and transform your clients' eyes. You are likely to see a wide array of clientele desiring this service, from busy moms to students to mature clientele, making this a universally successful treatment to offer in your business.
WHERE CAN I DO A LASH LIFT AND TINT CERTIFICATION COURSE?
Ready to bring definition to your client's eyes? 

International Beauty Institute offers an online lash lift and tint course!