Our Certificates are valid in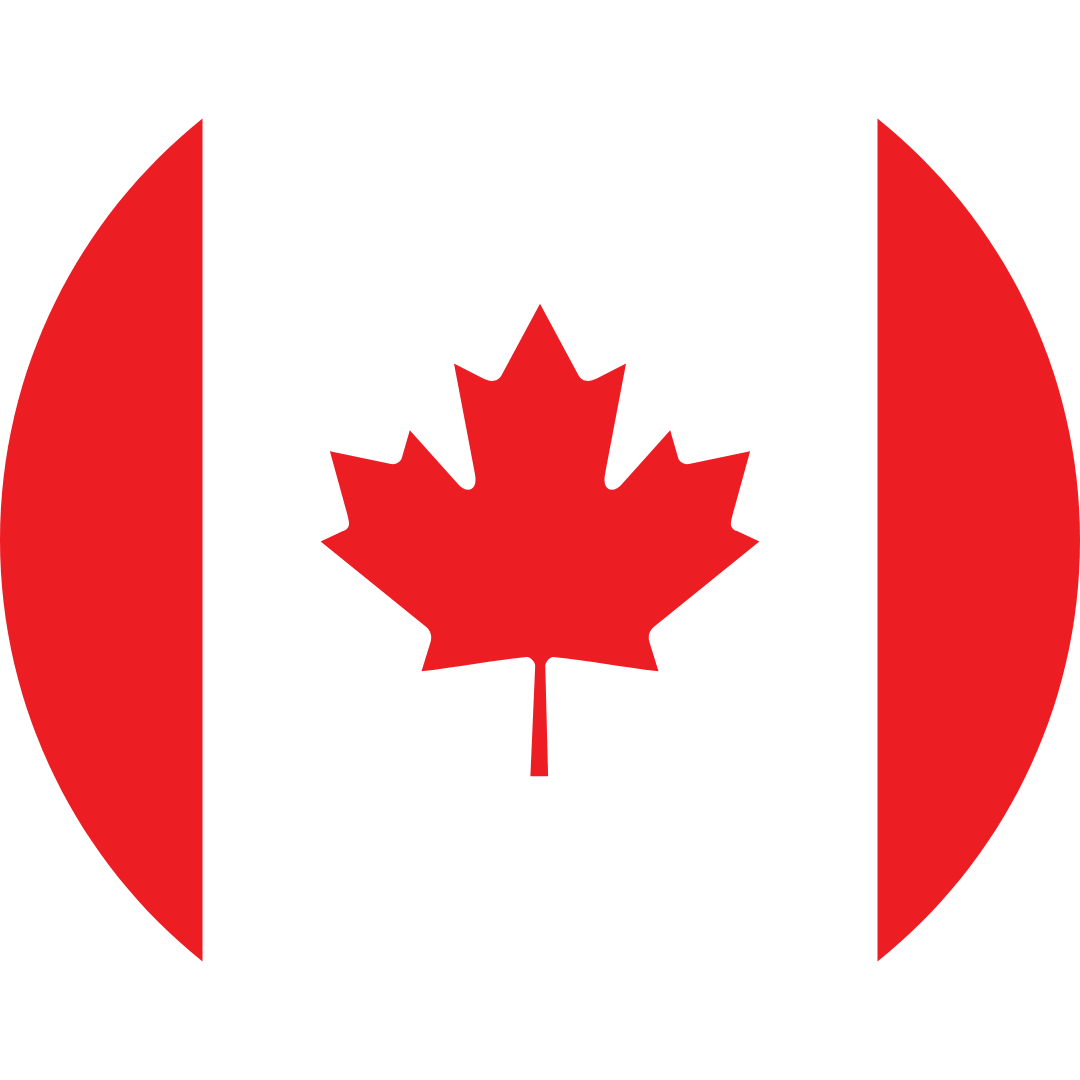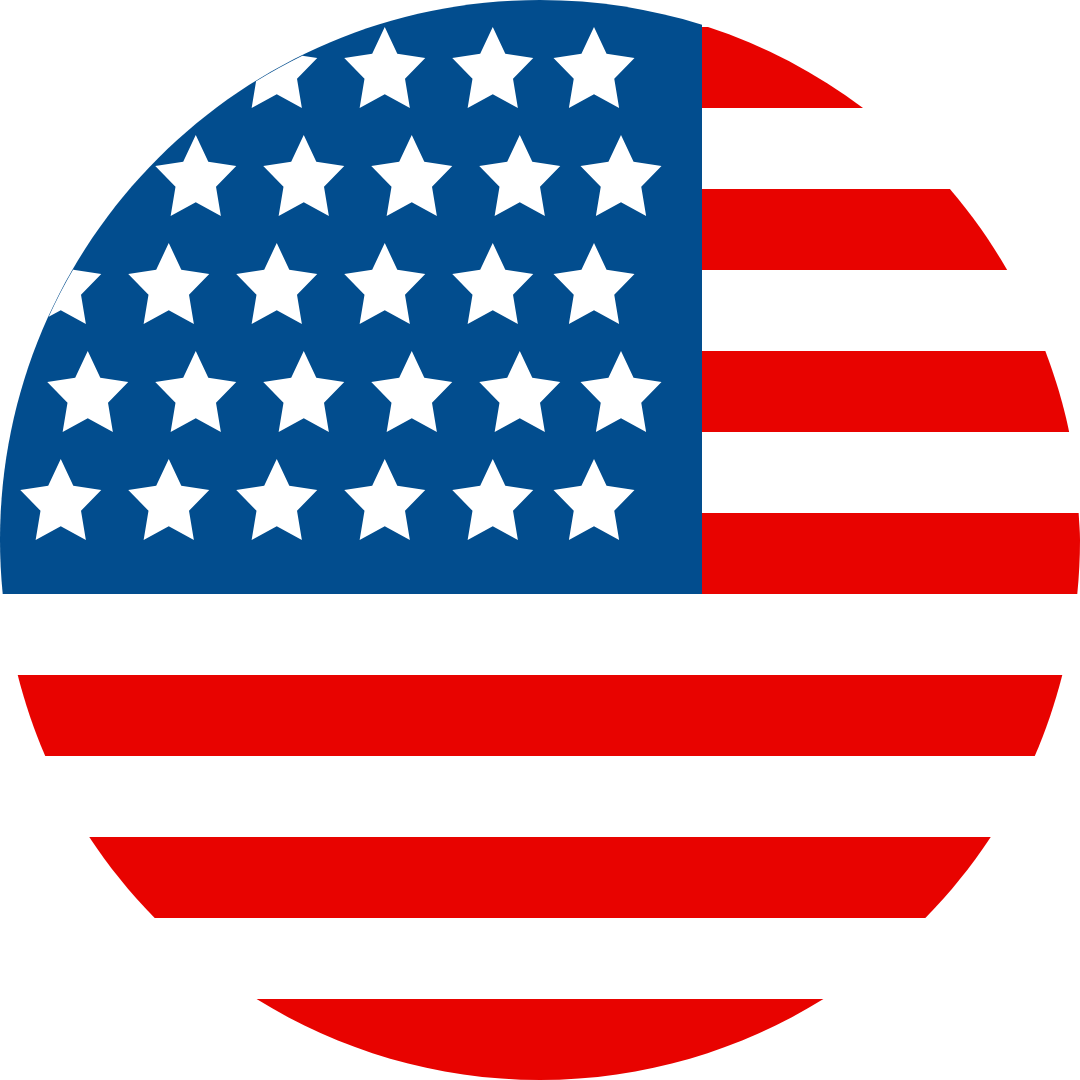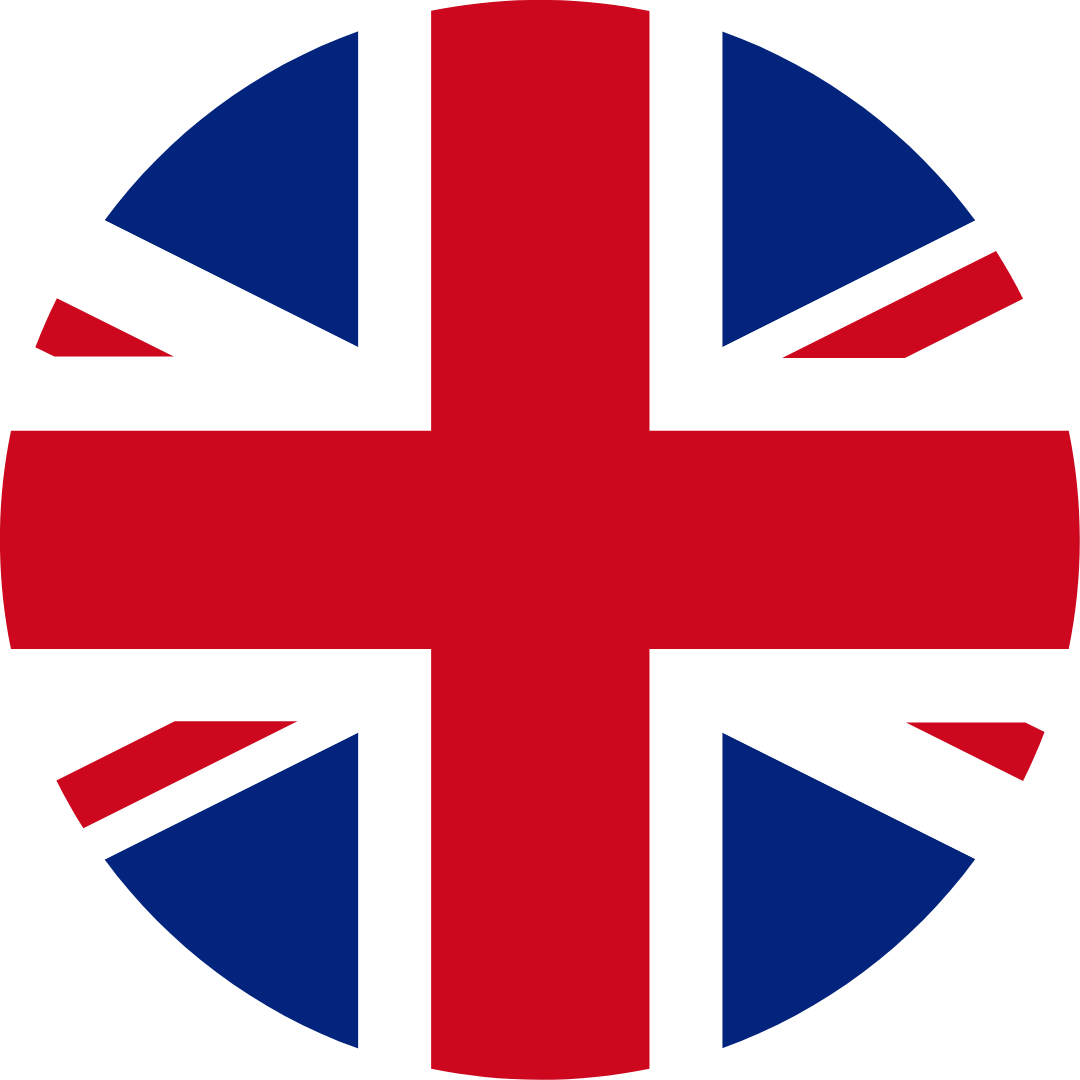 *Exclusions apply. Please contact us if you have a question about your region
Discover the principles and applications of laser and light therapy treatments for cosmetic and dermatological procedures in our fully online Laser Theory Course.
In this comprehensive online laser therapy course, you will gain a thorough understanding of laser hair removal, photorejuvenation, photofacials, pigment lesion reduction, vascular lesion reduction, acne reduction, tattoo removal, skin tightening, and cellulite reduction. You will learn about the mechanisms of action, indications, and contraindications of each treatment.
Our online laser course will guide you through the latest research on the use of lasers and light therapies for various skin conditions, providing you with the knowledge to effectively communicate with clients and make informed decisions about treatment options.
This text-based course is designed for flexible learning, allowing you to study at your own pace and on your own schedule. You will have access to engaging content, including readings, a research assignment, and quizzes, to reinforce your learning and test your knowledge.
By the end of this online laser training, you will have the knowledge and skills to confidently communicate with clients about laser and light therapy treatments. You will be equipped with a comprehensive understanding of the principles and applications of each treatment, allowing you to make informed decisions about incorporating these therapies into your practice.
Course Length: 10 hours
Assignments/Exams:

• 1 Research Assignment
• 1 Theory Exam
Our award-winning* college ensures that you get education that's rich in detail but short in length.
*2023 Aesthetics Academy of the Year in the GTA - Top Choice Awards
*2019 Training Academy of the Year - Ontario Hair & Beauty Awards
Plus, when you bundle, you save!
Buy 2 courses and take an extra 25% off.
Buy 3 courses and take an extra 40% off.
• History of Laser Technology
• Laser Physics
• Selective Photothermolysis and Laser Tissue Effects
• Anatomy, Physiology & Aging Skin
• Wound Healing
• Skin Typing
• Consultations
• Indications for Laser and Light Therapy
• Contraindications for Laser and Light Therapy
• Vascular, Pigmentation and Rejuvenation Laser Devices
• Laser Hair Removal
• Laser Tattoo Removal
• Intense Pulse Light I.P.L.
• Radio Frequency & L.E.D. Technology
• Acne Devices
• Laser & Light Therapy Assignment
• Fundamentals of Skin Care
• Pre-Treatment for Laser & Light Therapy
• Laser & Light Therapy Safety
• Laser & Light Therapy Business
A closer look at the Laser and Light Therapy Online Course.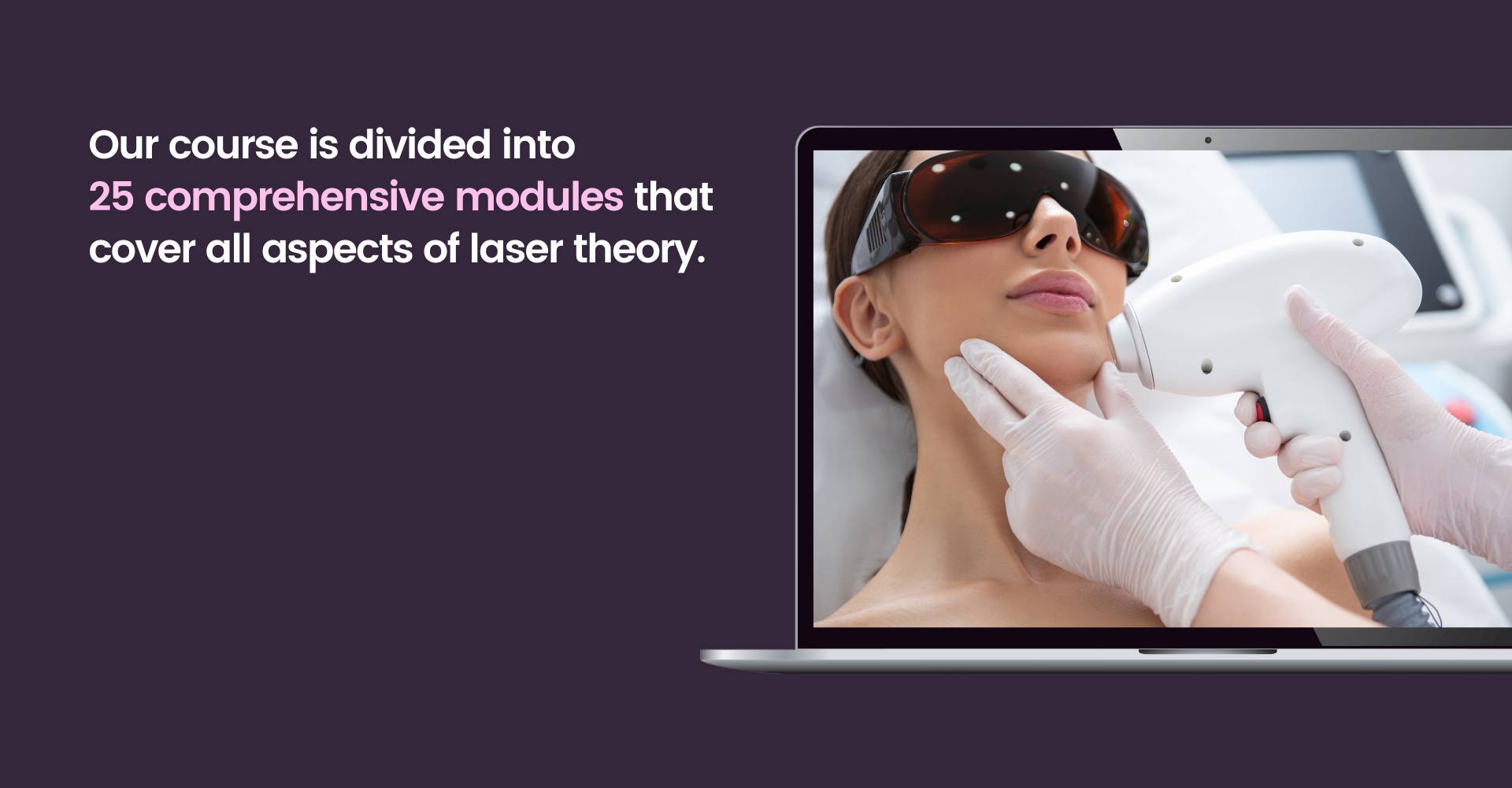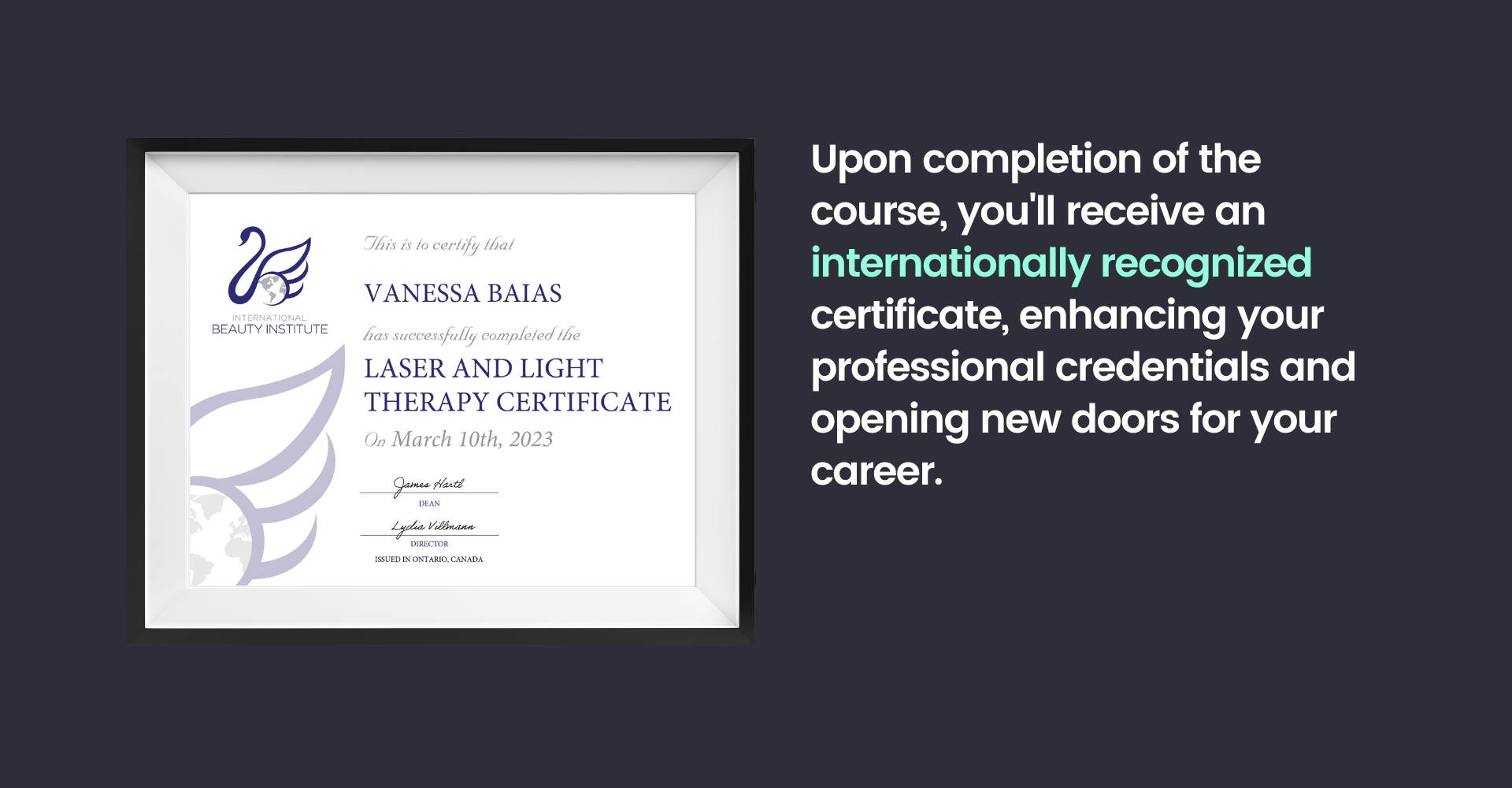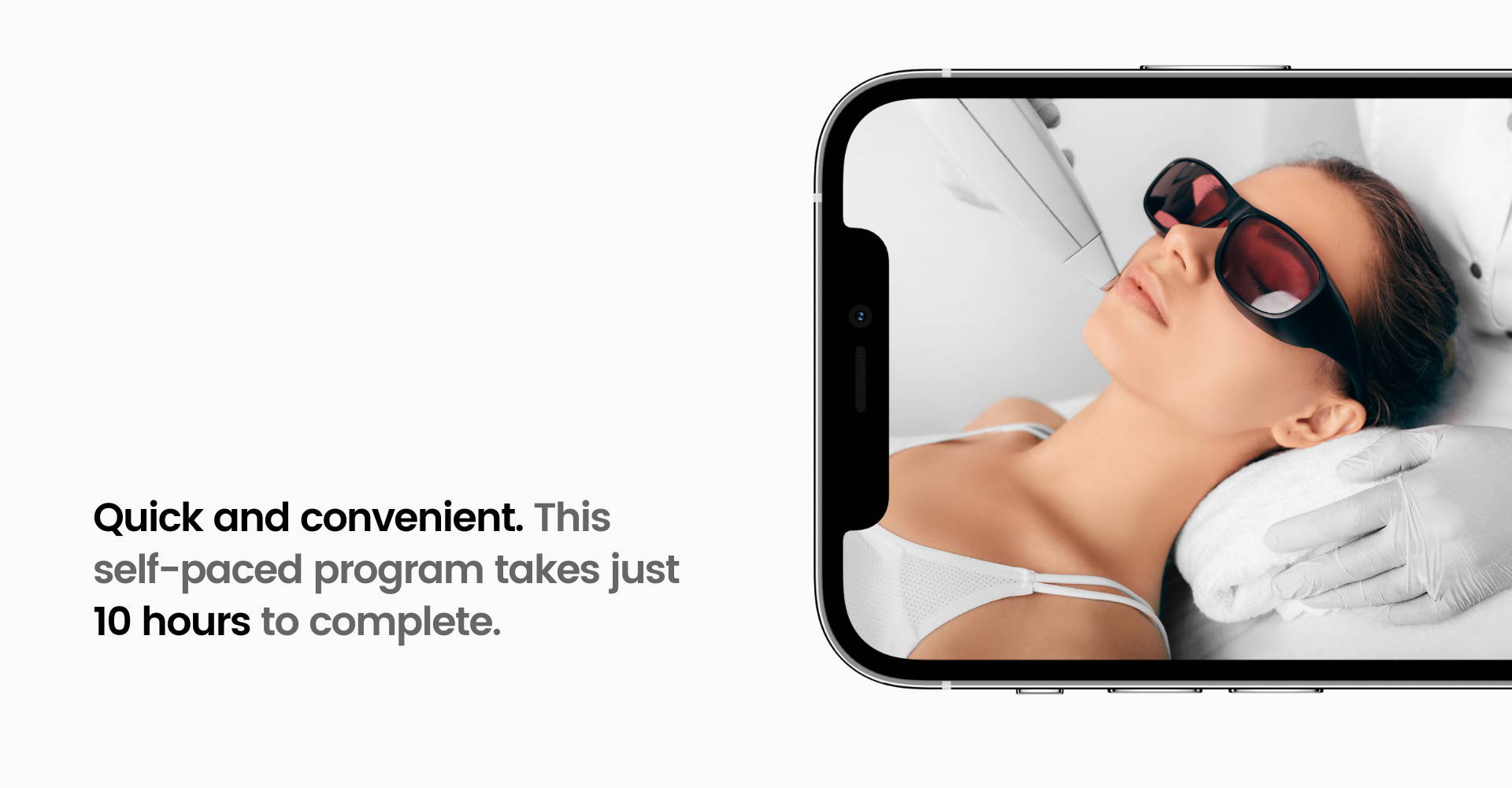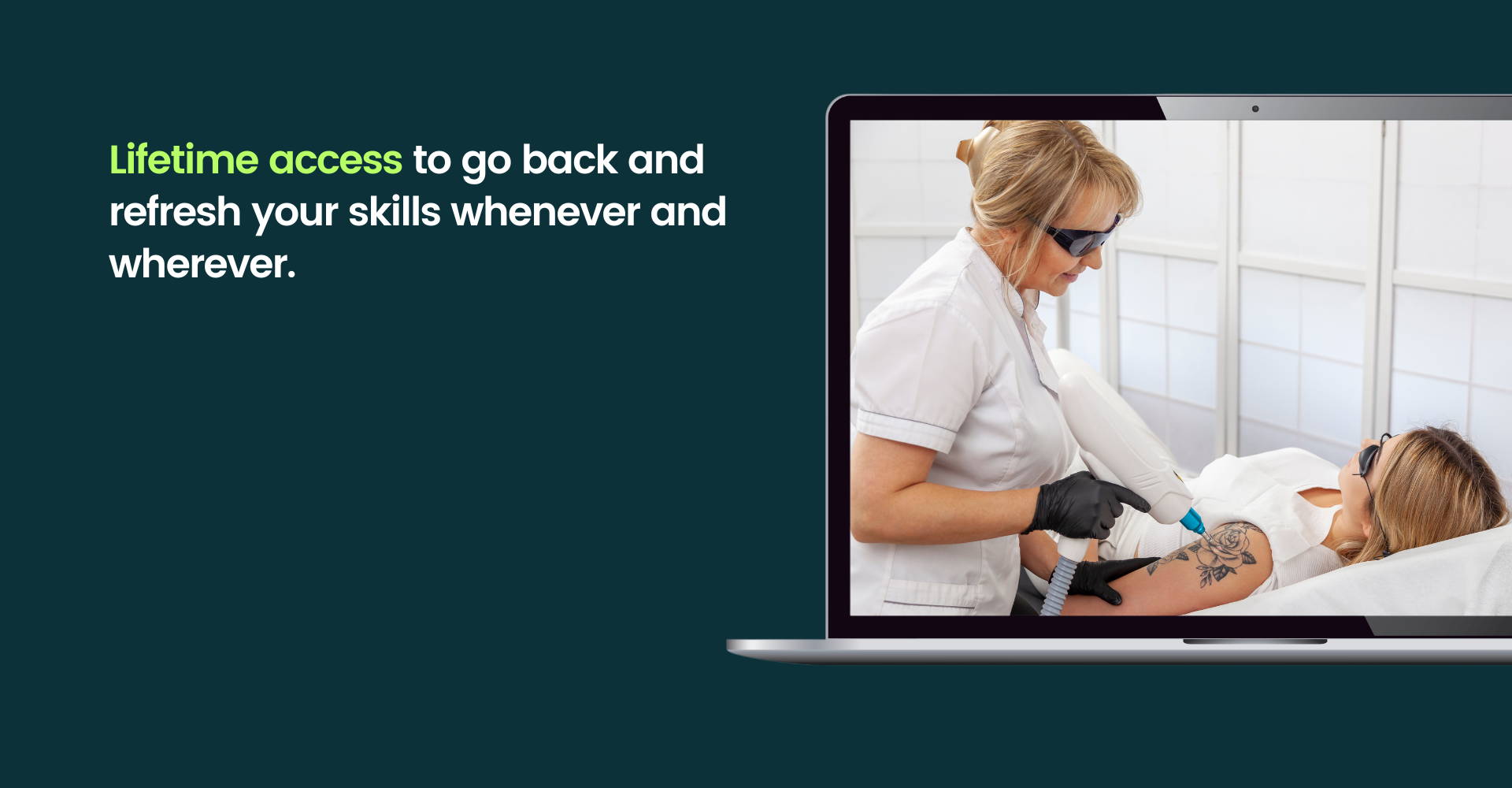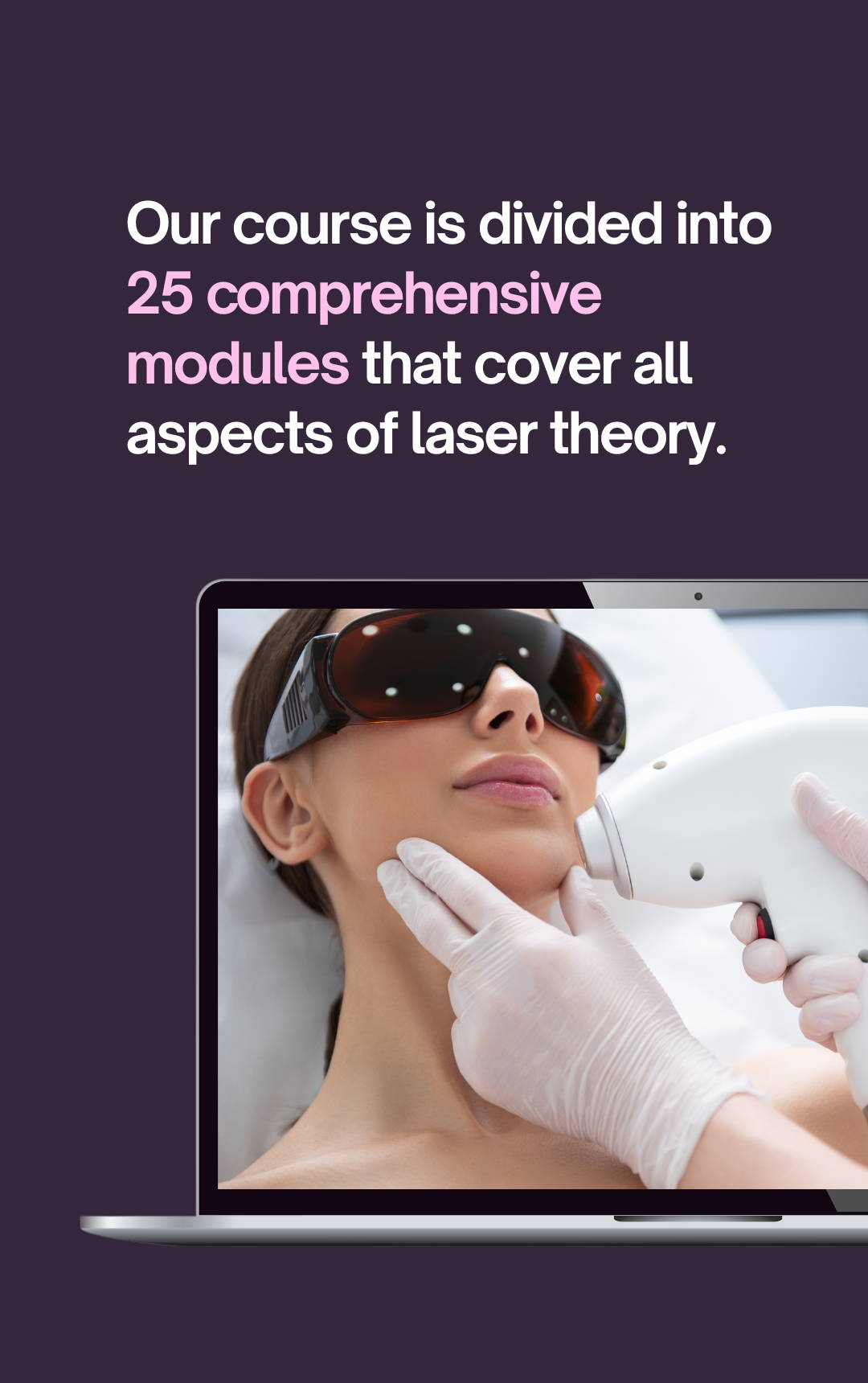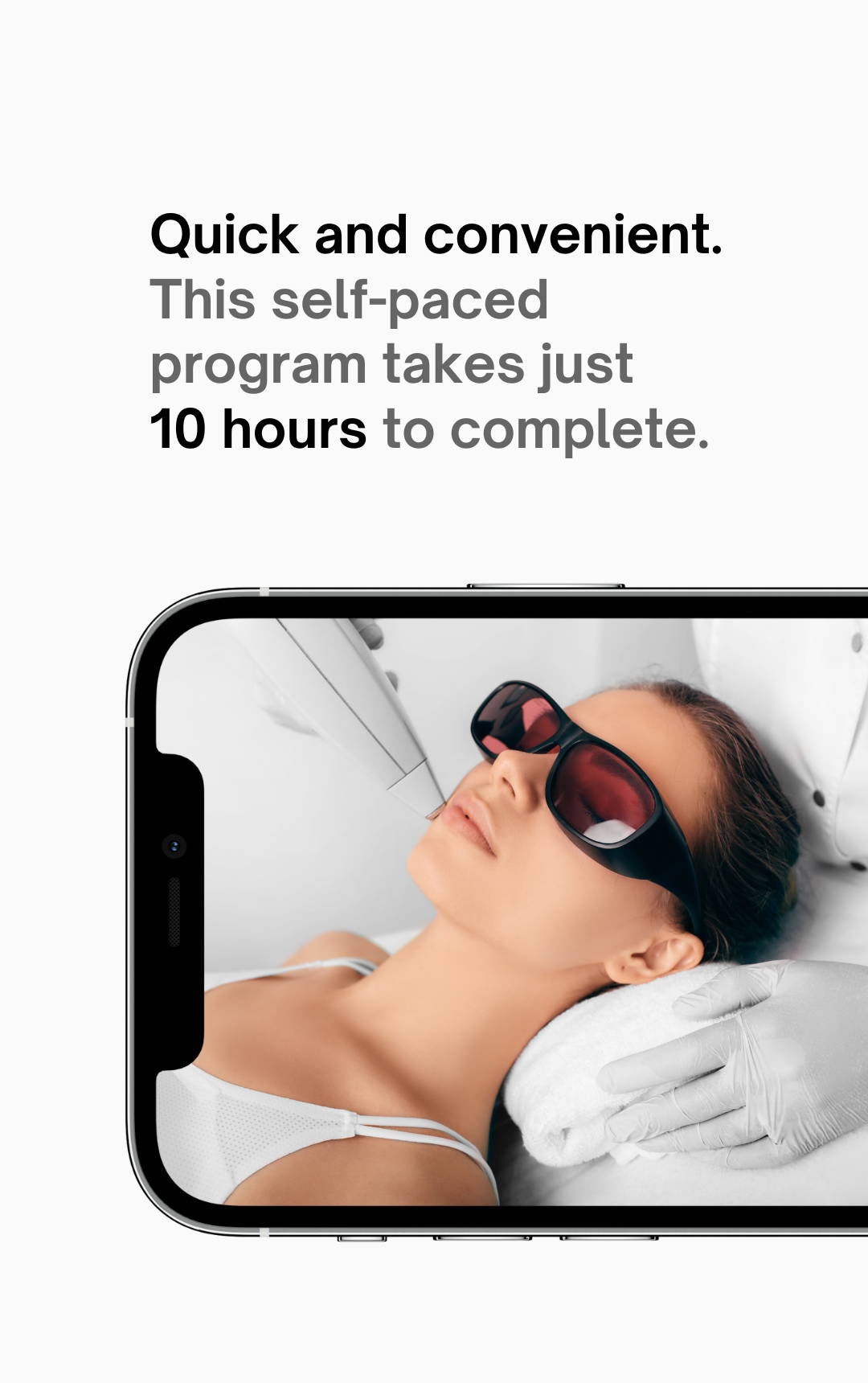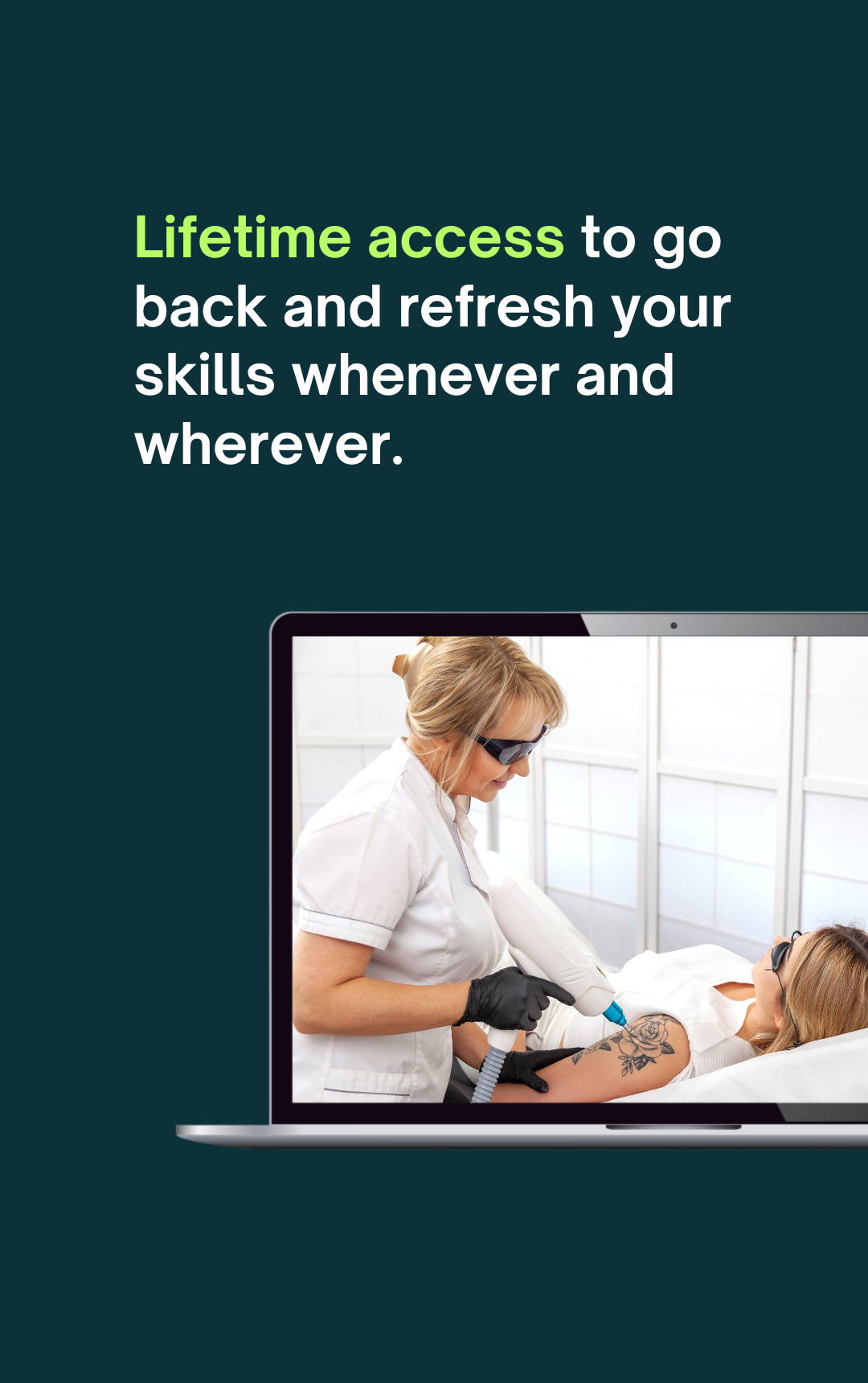 Through text readings, a research assignment, and theory quizzes, our online courses award you an internationally recognized certificate.
• Internationally recognized
• Electronic certificate (PDF)
• Email Support
• Help when you need it
• Feedback when you want it
• North American Private Career College
• Regulated by the Ministry of Education
• Over a decade in the industry
• Thousands trained
• Three campuses
• Over 50 faculty members
Is there a practical component to this course?
For those who wish to gain hands-on experience, we offer an optional practical training program for graduates of the laser theory course. This optional program is designed to provide you with real-world experience and help you develop the practical skills necessary to perform laser and light therapy treatments safely and effectively. The practical training is available at any of our three campuses, and our experienced instructors will guide you through each step of the process. By completing both the theory and practical components of the program, you'll be equipped with a comprehensive understanding of laser and light therapy services, giving you a competitive edge in the esthetics industry. Inquire with us for more details.
Will I be able to perform laser treatments after taking this course?
This is a theory course and there is an optional practical component you can add on. Please inquire with us about the optional practical component.
This course is 10 hours long, including the time it takes to perform the Research Assignment.
I've already purchased a laser machine. Why would I take this course?
If you've already invested in a laser machine and have scheduled a training session with a professional, our online Laser and Light Therapies course can complement your practical training. This course is designed to provide you with comprehensive knowledge and understanding of laser and light therapies, and can help you ensure that you are fully covered by insurance. By combining hands-on training with our online course, you can maximize the value of your investment and feel confident in your ability to provide safe and effective treatments.